Two of the places I've always wanted to visit are Harry Potter World at Universal Studios and Paradise Island in the Bahamas, so you could imagine my delight when I was offered the opportunity to join US Airtours on an amazing familiarisation trip!
Exploring Miami, the Bahamas and Orlando over 9 days, what an opportunity! Once I'd got permission from the husband & kids (they were very jealous!) I was off!
Heathrow Airport
Checking in at Heathrow we were lucky enough to experience the VIP First Class check in service. Virgin Atlantic Executive Natalie met us and guided us through, showing us how the other half live.
Once through check-in and security we were taken to the amazing Virgin Atlantic Clubhouse which was a fantastic way to start our trip to Miami! There was an amazing selection of food and drinks on offer in such a beautiful, relaxed environment. We were even lucky enough to spot a couple of celebrities! Starting off your holiday in a Lounge is always a great experience and a first for me today! This is a Virgin redhead cocktail, I can totally recommend it!
Miami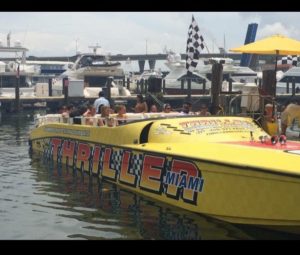 Well Hello Miami! 
We had such a great flight with Virgin Atlantic, it was smooth, the inflight entertainment was great (so much choice), the crew were very friendly and we got to fly over on the new Dreamliner, wow what a beautiful and comfortable plane. The seat back TV's are slightly bigger, the window could be dimmed at a touch of a button and the flight was so quiet. The Dreamliner has a 60% reduction in the noise on take-off and landing and you get a real sense of space as the cabin is over 6 foot high, great for us tall people! We appreciated the comparison on our return trip onboard an older jumbo.
After the comfortable flight it was now on to the beautiful Biltmore Hotel, situated in the Coral Gables area of Miami. This hotel is steeped in history, it has an amazing spa, golf course, speciality dining and one of the largest swimming pools in Florida. We were lucky to receive a guided tour around the Biltmore Hotel, we even got to see the amazing presidential suite which has some serious history, Al Capone stayed here and actually used a secret escape passage from this very suite! Every single US president has stayed here too….except for Trump, he prefers his own place located down the road!
Downtown Miami
Before boarding our cruise ship to Nassau we travelled to Miami Downtown to partake in a Thriller speedboat ride, which was exhilarating, the staff were very funny and knowledgable pointing out lots of interesting facts about Miami. It was so much fun and we got to sail past J.Lo's, David and Victoria Beckham's, and Sylvester Stallone's vacation homes.
Once we'd finished our Speedboat ride we had a while to wait for the cruise check in so we did what anyone else would do… we ordered a few Cocktails! There are loads of cocktail bars in and around Miami Harbour as well as events, shops and restaurants. It's a busy place and I can imagine it gets quite lively at night time.
Cruise to The Bahamas on The Norweigian Sky
Joining the NCL Sky cruise ship was very easy. After checking in and going through security it was straight onto the ship to enjoy the facilities. The ship was full to capacity but there was still enough space for all. We had been booked into a standard inside cabin, it was small and basic but clean and functional. Our cabin steward Marcel was so eager to please and a very friendly chap. Once we'd seen our cabin we moved up to the top deck in anticipation of the sail away party, unfortunately because of the rain, it had to be moved inside into one of the bars, but typically as we were leaving Miami the sun came out! We headed back out onto the deck to get some great pictures, still hearing the music from the bar.
Our Cruise was premium all-inclusive so everything was included which made it such great value for money. The food was great and the drinks list huge, only Champagne and certain wines were at additional cost.
Nassau
My experience in Nassau was an interesting one because it was so different to what I had imagined, it was much busier than I had expected, the port was like a car park with cruise ships everywhere! Once off the ship we headed straight for Paradise Island and Atlantis. Once we'd got the boat across from the port to Atlantis, which has its own section of private beach we visited the public beach as the private one is only for guest. The beach was very busy and there was lots of people trying to sell you things such as drinks/key rings/wraps etc. It was great enjoying the beach (the water was stunning) however we needed to move on and get back to Nassau!
There are many things to see and do in Nassau & the bars are great and good fun. Senior Frog's was my favourite, which was an experience in itself to say the least! There are many shops, restaurants and market stalls to browse through and there is a small beach here too if you don't wish to go stray far away from the cruise ship.
The second stop on the cruise was at Great Stirrup Cay, this is a private island owned by NCL so only it's customers get to experience this destination and the island was everything I expected with beautiful soft sand, stunning clear waters and beautiful sunshine.
Orlando
Disembarking the cruise ship was painless and very quick, and after collecting our hire cars from Miami Downtown it was off to Orlando straight up I-95. Four hours later and with hardly any traffic on the way we arrived at our hotel for the last 3 nights of our trip. The Sapphire Loews resort at Universal, which is an amazing and is one of the new hotels, recently built by Universal.
It's a got a great location with regular water shuttles in and out of the Universal parks. Staying on-site at Universal is fantastic as not only is it easy to get in and out but you also get fast track passes to use within the 3 different resorts plus early admission into Harry Potter World, Volcano Bay, Universal Islands of Adventure, Universal Studios and Citywalk.
We had an absolutely amazing day at Universal, and by the end I was completely exhausted! I managed to get around both the 'Islands of Adventure' and 'Studio' parks by using the Xpress Fast Track ticket. It was well worth it because our queuing time was minimal, compared to the standard tickets and the weather was on our side too! There was so much to see and do that we literally couldn't do it all, in fact I'd say you would need a week to do just Universal on its own!
Citywalk was another highlight. We went off for a meal and enjoyed a magical show in the evening, featuring scenes from the most popular shows over the past 100 years reflected into the water, along with fireworks and music, it was amazing and quite emotional.
Last Day
We had a packed schedule today on our last day, including a visit to Wild Florida. You can combine an exhilarating air boat ride with a visit to see their fascinating & interesting wildlife. Feeding the alligators was a personal high point, as they were very hungry! 
Wild Florida is a family run business who are 100% into the care and conservation of the Florida wildlife and most crocs, snakes and alligators found by pest control are generally offered to this family as they are experts in their field. It's a half day excursion and is about an hour or so from Orlando.
Next stop was back in Orlando where thanks to US Airtours ground staff we were able to have a look around several standards of villa accommodation. I was so impressed with the standards of these properties as most are on beautiful landscaped estates with security and fantastic facilities to use. On certain levels of villa you get use of a clubhouse, swimming pool (as well as your own private villa pool), golf course and restaurants plus lots more. 
I was blown away by the luxury of some of them, I think I could live in one permanently!
Volcano Bay
Before our flight home we had a very quick visit over to Volcano Bay. This place is amazing and the technology that's gone into it is incredible. The Volcano itself is a spectacular sight and the rides that you can do from the top are not for the faint hearted! I'm not sure I'd do a 30 foot free fall from the top through a tiny tube, but that's just me!
The new Taputapu bands are fantastic, you can make the most of this place whilst waiting in a virtual queue. They've thought of everything and listened to the negative feedback received in other parks to ensure this attraction is as seamless as possible. 
You can hire beautiful cabanas for very fair rates and these are stunning with loads of added extras like towels, Wi-Fi and a welcome pack. Well worth the extra money if you're in a group.
The lockers and changing facilities are spread out through the 3 different villages so a great tip on arrival is to head to the back of the park, this way you'll easily get a locker and won't be rushed in amongst a crowd of people. 
The food selection is phenomenal with loads of different options all based around a Caribbean theme. 
Young children are well catered for here too, with a very clever mini park just for them. 
I loved it, I can't wait to come back!
Becky's Top 5 Tips for Travel to Florida
Make sure you take a Lanyard with you to hold your Theme Park pass! I didn't have one and refused to buy one so I spent a lot of time checking my card was still in my back pocket
Wear the comfiest shoes you have, you'll do a lot of walking
Drink plenty of water. Make sure you've got a spare bottle for when you're waiting in line (if its busy) and refill it when you pass by a water fountain
Study the park maps before you go so you don't end up walking round the park 10 times. Have some sort of plan and
get to the parks early before they open, most people can't or won't, even at busy times of year. Sleep when you get back to the UK!
Take a break in the afternoon when the queues are peak and return later if you feel up to it
To find out more about the Caribbean, Florida and our Cruises send us an enquiry, pop into the shop or call 01275 774 886 and speak to one of our travel advisors.