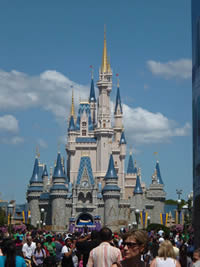 In March this year I was lucky enough to be given the opportunity to travel to Florida and experience many of the top attractions in the area including Magic Kingdom, Universal Studios (Islands of adventure), Alligator hunting on Port Everglades, Swimming with dolphins in Miami, A nature bike ride along Hollywood Beach, Fort Lauderdale, A river tour of all the stars homes also in Fort Lauderdale, plus the chance to eat in all the hotspots.
Magic Kingdom
One word AMAZING! Something for all ages there were rides, live shows, parades, meet and greets you name it!! We went into one of the 'Disney' shops in the park and all got sprinkled with lucky fairy dust you get completely drawn in by all the magic the minute you walk through the gates the child within you jumps out!!
I highly recommend paying that little bit extra for the fast pass where many people were queuing up to 3 hours for some of the rides with the fast pass we were on within 30 minutes so were able to see much more of the park in one day.
Universal Studios (Islands of Adventures)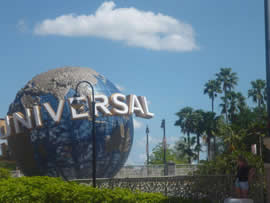 Another fun filled day! The highlight of our trip here was Harry Potter it really felt like we were on the film set with the Hogwarts express train, more live shows, a huge butter beer stall (definitely worth $5!!) The main attraction of course was Hogwarts itself this building was the 'ride' it's quite gentle and very suitable for children of all ages I remember us all applauding and cheering at the end of the 5 minute ride and desperately wanting to do it again but of course there was so much more to see!! Universal is home to Spiderman, Incredible Hulk, Jurassic park, Dr Seuss, The Simpsons, Twister, Shrek, ET, Dr Doom and many many more. Plenty of meet and greets for the children too – SpongeBob, Woody Woodpecker and the cast of Scooby Doo among a few!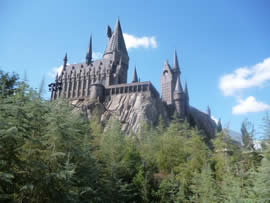 Again the fast pass tickets were in-valuable I can honestly say we didn't queue for more than 5 minutes on anything!! Worth the extra money for sure!!
Alligator Hunting, Port Everglades
WOW! This was the one excursion I wasn't sure about beforehand, how wrong I was!! We went to the Saw grass Recreation Park and took an airboat over the 'glades!!' I will cherish this day forever as I saw and experienced things that I will never again in my lifetime, we saw 3 alligators in their natural habitat we were so close if we reached out we could of touched them (of course we didn't!) they also have an outdoor museum to look around after the 30 minute airboat tour where you are able to hold baby alligators and there were informative talks from experts put on at certain times of the day.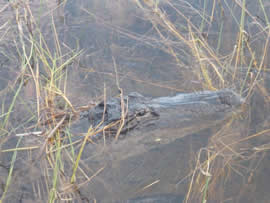 We travelled to the biggest shopping outlet in the state afterwards, Saw grass Mills there's over 300 outlet stores here at amazing prices – it's no wonder people take an extra suitcase home after they have visited here!!
Nature Bike Ride, Hollywood Beach
Although this isn't a trip particularly advertised in the UK its very popular once in Fort Lauderdale, It's about a 2-3 hour ride taking in Hollywood Beach, A nature reserve and many of the un-spoilt tourist spots along this stretch of beach – very enjoyable and highly recommended although we were a little surprised that none of the bikes had brakes – we had to pedal backwards to make the bike stop – this brought many laughs and lots of fun a must if you visit Fort Lauderdale!
Throughout our trip we ate fabulous food in Planet Hollywood, the Cheesecake Factory, Wendy's, and various hotels. Planet Hollywood and the Cheesecake Factory are a must see whilst in the States (although pre-booking is probably advisable).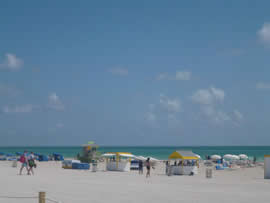 We also went to Downtown Disney home of the biggest Disney store I have ever seen it took us over and hour and a half to walk around it and I'm still not sure we saw it all! A dinner show called Wonderworks on International Drive, a hilarious comedy act with free flowing pizza, fries, beer, wine and soft drinks followed by an interactive science exploratory type thing on two floors upstairs where we were able to lie on a bed of nails, stand in a tornado machine, walk the high ropes, Laser quest all for a one time entrance fee – a great evening out for all the family!!
I visited many hotels including The Westgates Lakes resort, Orlando, Old Key West Resort, Disney, Portofino Bay Hotel, Universal, Hard Rock Hotel, Universal, B Ocean Hotel, Crowne Plaza Hotel, Westin Diplomat Hotel, Atlantic Hotel, Fort Lauderdale, The colony Hotel, The breakers, Boca Rotana near West Palm Beach, The Lowes and Versace Mansion in Miami so I can give you lots of information about the facilities, rooms and food! On all of these hotels.
I can't speak highly enough about Florida everything about it was fantastic from the weather to the facilities to the attractions to the people, everyone should visit this wonderful state at least once.
If you have any questions or want more information on my wonderful trip please do not hesitate in calling me or popping in for a cup of tea and a chat id be delighted to go through it all with you. . . . . . . See you soon!