I visited Thailand this year (April 2013) for the first time, and must say what a wonderful country Thailand is. Great food, Great service, Great weather & Great people they really can't do enough for you. I must admit I was a little apprehensive about travelling here at first as had never been to the Far East apart from one night in Singapore. However I was pleasantly surprised and will definitely be going back!
We first stopped in Bangkok for 3 nights and had an amazing experience, as we landed on their New Year which is called 'The Songkran water festival'. It sees thousands of people take to the streets with one aim, to get each other as soaking wet as possible. This was defiantly an interesting experience, but so much fun! You can see why Thailand is known as The Land of Smiles, everyone is so happy!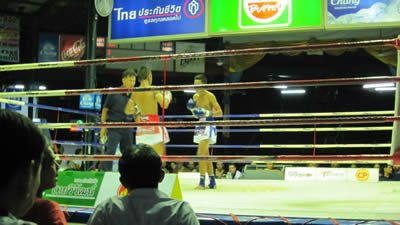 On our first evening we thought we would see a Muay Thai Boxing match at The Lumpinee Stadium, central Bangkok. Which was a unique experience and the atmosphere was fantastic. Ringside seats made this experience really exciting, listening to the voices of the locals rise and fall with each round of the fights as they gambled. And seeing the cultural rituals involved with Muay Thai was fascinating.
The next day we took in the city sights of Wat Pho temple then a boat ride up the river to The Grand Palace. The Grand Palace is Bangkok's most famous landmark and an absolute must see attraction.
Bangkok has several huge shopping malls, one of my favourite Terminal 21 shopping mall, I simply love the concept of the place. Designed like an airport terminal, each floor has a country theme!
Markets around Bangkok offer fascinating shopping experiences. Compared to air-conditioned malls, though, they are hot and sticky mazes with alleys after alleys of shops selling everything from one-off fashion accessories to farm-fresh flowers and agricultural produce.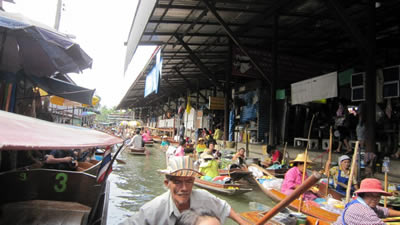 As well as excellent bargains, the markets also offer a slice of local life and a great opportunity to sample the kind of food you won't find in most restaurants. Of all the markets in Bangkok, Chatuchak Weekend Market is a must visit, while others, such as those in Patpong, Khlong Thom and Saphan Phut offer exciting night-time shopping experiences.
For something you won't find anywhere else try one of the floating markets which combine shopping and sightseeing into one, this was my personal favourite shopping experience. We visited the floating markets on our last day on route to the tiger temples which was the ultimate highlight of our stay.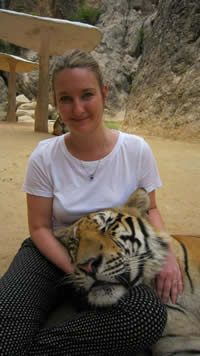 Approximately a 2 hour drive from Bangkok city, we had our own driver and English speaking guide who took us to the floating markets, The bridge over the river Kwai and The Tiger Temples! Where we got to sit next to and pat the tigers a great photo opportunity! After they were fed, we were then able to walk the tigers before taking them to the Canyon for their nap. As the Tiger temple is a working Buddhist monastery there are some dress codes in place. Women must cover their shoulders and knees. Also, bright colours like red, orange and pink are not allowed as they can startle the tigers!
All in all an amazing day, and some fantastic photos!
The next morning we departed for Phuket where we stayed in Cape Panwa for 8 nights a very relaxing resort south of the Island. From here we did a couple of boat trips including Phi Phi Island & James Bond Island.
With the wind in your hair and the thrill of travelling by speed boat we arrived Phi Phi Islands where we island hopped between the different islands. Stopping at Ao Ling (Monkey Bay) on Koh Phi Phi Don, then we snorkel at the famous Hin Klang and relax & swam in Koh Mai Pai (Bamboo Island).
We spent the rest of day at Phi Phi Leh, visiting Maya Bay – location for the Hollywood film 'The Beach' – and snorkelled in some of the clearest water on the planet.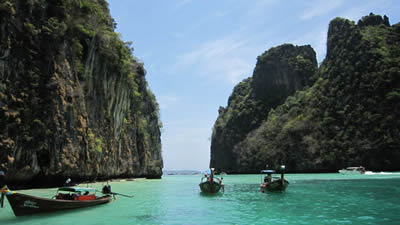 A couple of days spent chilling at the hotel around the pool and by the beach, it was then time for our next trip to James Bond Island which is a famous landmark in Phang Nga Bay. It first found its way onto the international tourist map through its starring role in the James Bond movie 'The Man with the Golden Gun'. A distinctive feature of this famous bay is the number of sheer limestone cliffs that vertically jut out of the emerald-green water.
We also stopped at Koh Panyee – a nearby Muslim fishing village on stilts. A small island, less than 400m long, there is not really any flat land. Instead, over the last 200 years since the village was founded, a community has built up over the shallow waters to the south of the limestone cliff / rock that makes up Panyee island. Fishing was the main trade here, and is still important, but tourism is now well and truly established – all the way through the village, stalls are selling crafts, cloth, souvenirs, but there is still the old life here – other stalls sell vegetables and fish.
After a few more days chilling by the sea, it was time to leave this beautiful destination. One thing is for sure I will be back!
If you are interested in travelling to Thailand, a country thar boasts an enchanting combination of the world's finest beaches and unique landscapes. I have some fantastic tips and advice to give so please get in touch if Thailand is on your list to visit and I will be more than happy to help.