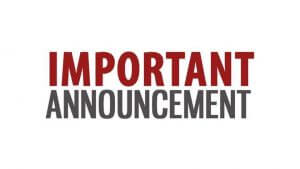 Following the updated advice of the UK government this evening, with regards to 'social distancing', I have taken the sensible decision to implement a 'closed door' policy to our clients from Tuesday 17th March, in order to help prevent the spread of Coronavirus. I am pleased, however, to advise that although customers will be unable to visit the shop, Global Independent Travel will continue to operate as normal, during our standard trading hours.
We will continue to be contactable via telephone on 01275 774 886 and by email (clevedon@globalindependenttravel.com) to assist our clients with any changes currently being made to their upcoming travel plans, and to help the community with new travel enquiries and advice.
This temporary measure, which has been put in place with immediate effect, I believe is a responsible move, and will help to avoid any potential sharing of the virus between our staff and customers during this current crisis, which the business is taking very seriously.
On behalf of the team at Global Independent Travel, I would like to thank our customers for the ongoing support that has been given to us over the past couple of weeks, and I trust that you will understand the rationale behind this sensible short term measure.
Lisa
Owner/Director